Class difference
Riddhi Shah, The Boston Globe, 9 May 2010

The last two decades have witnessed the rising popularity of low-cost private schools across the developing world. Researchers estimate that there are now 1 million budget schools in countries like Ghana, Kenya, Nigeria, China, Pakistan, the Philippines, and Uganda. Started by local entrepreneurs, these schools are most often located in urban slums, operate out of a few rooms, and are run by teachers who are paid less than half the salary of a government teacher. The results have been so impressive that some researchers are now suggesting that low-cost private schools might be the answer to educating the world's poor.


Schools turn smart to woo Private Equity
Kalpana Pathak, Business Standard, 5 May 2010

When Chennai-based Everonn Education begins setting up international schools in the country next year, it plans to do so as a private limited entity under Section 25 of the Companies Act, 1956, and not as a trust. Increasingly, educational institutions in the country are taking innovative routes to expand. For example, schools that cannot go for the Section 25 option have begun turning to "smart equity" from private equity (PE) players to expand access to new technologies, build new set of services and add resources. More [+]


'Sibal restores MPs' 2-seat quota in KVs'
The Times of India, 8 May 2010

Bowing to relentless protests from MPs, both ruling and Opposition, against the decision to scrap their quota of two admissions each in Kendriya Vidyalayas, HRD minister Kapil Sibal on Friday said he had restored the quota. However, Sibal said he would not use the quota himself both as MP and education minister. HRD minister has the discretionary quota of getting admission to 1,200 children. In effect, Sibal will not be making use of 1,202 seats. More [+]


Count, but don't teach
Joyeeta Ghosh, Hindustan Times, 7 May 2010

MCD teachers have been directed to gather information from households for Delhi census that kicked off on May 1 and will continue till June 15. The teachers who have to put in the extra hours of work complain of harassment, exhaustion, humiliation and even foregoing their summer vacations.For the women, the problems seem to be more acute as they have to manage their house, their teaching job and do the census duty. Apart from managing time, they have to face a lot of harassment while conducting the census.The MCD has tried to address the problems of the teachers and asked the government not to put teachers, especially the women, on election or census duty but their request was not heeded to. More [+]


Tamil Nadu government regulates fee structure for private schools
Merinews, 8 May 2010

The Tamil Nadu government recently passed a circular and ordered a new fee structure for the private as well as unaided schools -a fee slab of Rs 3,500 to 11000 .The school fees which are regulated in Tamil Nadu at present is Rs 11000 for Higher secondary school, Rs 9,000 for High School, Rs 8,000 for Middle School and Rs 5,000 for Elementary School. The committee has also proposed a 10% additional expenditure charge for future development in schools and this will be meant for all Private, unaided as well as Anglo – Indian Schools under the regulation of state board. More [+]


Plan to lift ban on deemed tag
Charu Sudan Kasturi, The Telegraph, 8 May 2010

The human resource development ministry is preparing to again start awarding deemed university status to institutions, lifting a ban it had imposed in June 2009. The move comes after a massive pile-up of applications from institutions aspiring to the deemed tag, which allows them to award degrees without direct legislative scrutiny unlike full-fledged universities.But the decision to re-open the deemed university "bazaar" — as some officials jokingly referred to the move — comes amid a feeling that the tough new regulations adopted will help enforce standards at these institutions. More [+]


Government cuts interest rate on education loans
Subhash Narayan & Rajeev Jayaswal, The Economic Times, 5 May 2010

The government is working on a refinance scheme to offer education loans at interest rates as low as 4%, and plans to extend the repayment period for those who aspire to become doctors, engineers, fashion designers and IT professionals. The scheme envisages the setting up of a special purpose vehicle to refinance banks for giving education loans below prime lending rates. Currently, interest rates for education loan varies between 10% and 12%. More [+]


A big-bang non-event?
P. K. Doraiswamy, The Hindu, 9 May 2010

The Foreign Educational Institutions (Regulating of Entry and Operations) Bill, 2010, was introduced in the Lok Sabha on May 3 after Cabinet approval. It is aimed at regulating the entry, operation and standards of foreign education providers (FEPs).The Bill has evoked a bewildering variety of views which clearly shows grossly inadequate consultation and reflection on the government's part.While there should no barriers to the entry of an FEP within the law of the land, there is no case for canvassing for it or hailing it as a revolution. No great university has developed through imports! More [+]


Cash or Condition? Evidence from a Randomized Cash Transfer Program
Sarah Baird, Craig McIntosh and Berk Özler, World Bank

Are the large enrollment effects of conditional cash transfer programs a result of the conditions or simply the cash? This paper presents the first experimental evidence on the effectiveness of conditionality in cash transfer programs for schooling. Using data from an intervention in Malawi that featured randomized conditional and unconditional treatment arms, the authors find that the program reduced the dropout rate by more than 40 percent and substantially increased regular school attendance among the target population of adolescent girls. However, they do not detect a higher impact in the conditional treatment group. More [+]
Photo of the Month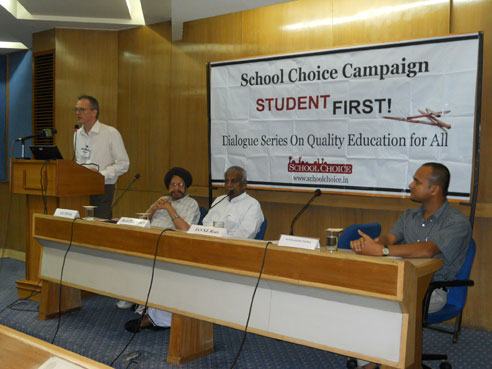 Student First! Dialogue Series
School Choice Campaign and India Habitat Centre organized an open forum discussion on Teachers and Para-teachers: Professionalism and Performance on 5th of May 2010 at the India Habitat Centre.
...Read More
RTE Coalition
To initiate and continue the discussion amongst concerned groups and individuals on the issue of right of education and monitor the implementation of the RTE Act, an RTE Coalition has been formed. Join the coalition to make universal elementary education a reality in India. Log on to www.righttoeducation.in for more information.
Azadi.me Bastiat Essay Competition
Log on to Azadi Bastiat Competition section to win attractive prizes!
2010 Fisher International Memorial Award
James Tooley's "The Beautiful Tree" bags 2010 Fisher International Memorial Award.
To read more click here
SCHOOL VOUCHERS FOR GIRLS
400 girl children from poor families of North East Delhi receive school vouchers for a period of 4 years.
For details visit website
Support Children's Right to Education of Choice!
DONATE


For more details on how to support, log on to www.schoolchoice.in or email us at schoolchoice@ccs.in