Pauline Dixon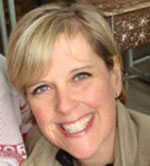 Pauline Dixon is a Senior Lecturer in Education and Development and has extensive experience working in Asia and Africa. Her major research interests are the theory of Austrian Economics, education vouchers in developing countries, children's literacy and the regulation and privatisation of education in developing countries.
In 2003 she won the Don Lavoie graduate essay prize from the Society for the Development of Austrian Economics for a paper about private schools in India and the regulations with which they have to abide. In 2001 she won a place on the prestigious 'Advanced Seminar in Austrian Economics', in New York, USA.
Pauline is currently the Degree Programme Director for the MA in International Development and Education and the Degree Programme Director for the MEd full time.