Home > Campaign Update > Orissa
December 2008
Taking School Choice Ideas to Odiya NRIs
Baladevan R, Associate Director made a presentation on the School Choice Campaign on the occasion of the 5th Odiya Prabasi Diwas on 21 December 08 in the presence of several ministers and experts from the health, education, environment and tourism sectors. School Choice ideas on various ways to develop Orissa's social infrastructure were presented before the government and the non resident Odiyas.

February 2008
School Choice Research for Advocacy in Orissa
Our various experts have completed their research papers on Financing Elementary Education in Orissa - Per Child Cost, Increasing Access to Early Schooling for the Underprivileged and Standards for A School Towards Quality Education.

October-November 2008
Street Theatre for School Choice

School Choice Campaign and Art Venture jointly organised a public communication campaign to disseminate the idea of School Choice through the medium of Street Theatre (in the regional languages) in Orissa in 2008.
Street theatre performances were conducted in 8 districts of the State- Balasore, Bolangir, Mayubhanj, Khurda, Sundergarh, Gajapati, Kendrapara and Koraput. 15 street plays were performed in each district within a two month period starting from October 08. The plays were successful in reaching 19,850 people directly (as audience) and over 19,00,000 people indirectly through word of mouth and media coverage .
A School Choice advocacy film based on the street theatre performances is being made by filmmakers Nandan and Kavita, who are recipients of 2008 Jeevika awards.
The project has gained extensive regional media coverage, which will be capitalized on to execute our new strategy of engaging grassroots level political representatives such as the panchayat leaders for the success of the campaign.
| | | |
| --- | --- | --- |
| Type of Beneficiaries | Description | Count (Orissa) |
| Direct | Audience attending the play | 19,850 |
| Indirect (level 1) | Secondary audience (through word of mouth) | 99250 |
| Indirect (level 2) | Secondary audience (through media coverage) | 1985000 |
VOICE OF THE PEOPLE
"I think education vouchers are a very good way of giving poor people an opportunity to educate their children in better schools. It is a new idea for us but we completely support this campaign."- Mansi Sharma, parent, Khurda
"The street plays were interesting and informative. The message was clear and we will definitely demand our representatives to work towards achieving this for our children." - Lalit Mon Lal, school principal, Sundargarh
"Working for School Choice Campaign made me realize that even the poorest of parents want to educate their children, but have no access to it. The campaign found massive support amongst the adivasis." - Subrat Kumar Kar, Coordinator, Street Theatre for School Choice, Orissa

January 2008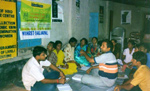 In Orissa, the first phase campaign is running in full swing and it's almost at the last stage of the first phase campaign. State is planning for the culmination programme in the month of February. Getting excellent response from the people. So far, 4, 02, 260 signatures have been collected through contacting people directly. 47 Block level Meetings and 28 District Level Meetings have been conducted so far. 161 memorandums have been submitted to the Gram Panchayat, 44 memorandums to the Panchayat Samity, 7 memorandums to the Zilla Parishad, 4 memorandums to the MLAs/MLCs and2 memorandums to the MPs. 26 rallies have been conducted so far. Simultaneously, getting good media coverage for the state.