Schools can soon adopt playgrounds
The Times of India, July 13, 2011

MUMBAI: In a bid to protect open spaces from political interference and encroachments , the BMC has issued a new draft policy as per which playgrounds that are situated next to schools and colleges will be given to the educational institutions for adoption.The BMC will levy a token annual licence fee of Re 1 on the institution that adopts the playground. While neighbourhood residents will be able to enjoy the open space after school hours, political and religious functions will be banned. The proposal follows a 40-year fight for open space by students and the management of a Khar school.

Education scheme yet to cover all - 1 lakh plus out-of-school children in Assam
The Telegraph, July 15, 2011

Guwahati: More than one lakh out-of-school children in Assam are yet to be covered under the Sarva Shiksha Abhiyan (SSA), education minister Himanta Biswa Sarma told the Assembly today. He was replying to a question by All India United Democratic Front (AIUDF) MLA Sirajuddin Ajmal. "According to the district information system for education (Dise) 2010-2011, altogether 1,24,577 out-of-school children are yet to be covered under SSA as on March 31, 2011," Sarma said.

Government schools not friendly to differently-abled
The Hindu, July 15, 2011

Majority of government schools woefully lack facilities for the disabled children and are inaccessible to them says a survey conducted recently by a voluntary organisation.Taking a sample size of 100 government schools from 22 mandals of four Telangana districts, the Network of Persons with disability Organisation (NPdO) conducted a detailed survey covering all provisions listed in the Persons with Disabilities Act 1995 that accords equal opportunities, protection of rights and full participation for the disabled.

Lack of school transport facilities forcing students to arrange own modes
The Times of India, July 12, 2011

NAGPUR: Most of the private and government schools in the city do not have sufficient vehicles to transport children. As a result, children have to depend on unsafe modes of transport, including autorickshaws, vans and cycle rickshaws.Though there are a few schools, which have made transport arrangements for their students, a majority of the schoolchildren have to risk their lives travelling in overcrowded autos, vans and cycle rickshaws.

148 medical students' wait for justice
Tehelka, July 15, 2011

The damage done by Medical Council of India (MCI)'s corrupt and arbitrary approval of private medical colleges during Ketan Desai's tenure as chairman and the scale of the rot in private medical education is still unravelling. TEHELKA's sting operation exposed the dubious functioning of hospitals run by four private medical colleges near Delhi. This week, the spotlight is on KJ Mehta College of Medical Sciences in Bhavnagar, Gujarat. Here, in an innovative but outrageously fraudulent manner, clinical and staff capacity was faked by hiring doctors for a few hours to impress inspectors.

Banks want to grade colleges to pare bad education loans
Mint, July 18, 2011

Students who fail to secure admission in reputed institutes of higher learning due to poor results may soon find it tougher to secure bank loans.Concerned over a sharp rise in defaults from educational loans in the past one year, Indian banks now want to grade educational institutions based on the efficiency and repayment track record of their students. Banks have asked the Indian Banks' Association (IBA), an industry lobby, to put in place a mechanism to rate the institutes.

Tom Vander Ark's New York-Area Charter Schools Falter
The New York Times, July 14, 2011

After years spent directing the distribution of more than $1 billion from the Bill and Melinda Gates Foundation into hundreds of schools across the nation, Tom Vander Ark set his sights on the New York area, with a plan to create a network of charter schools of his own. Mr. Vander Ark, the foundation's former executive director of education and a national leader in the online learning movement, was granted charters in 2010 to open a high school in Bedford-Stuyvesant, Brooklyn, and two others in Newark.

Educating all children - without exception
The New York Times-Today, July 18, 2011

Education is one of the most important issues on Singapore's national agenda: It takes up about one-fifth of the Government's annual budget. The Minstry of Education invests a significant amount of resources in making the educational landscape a vibrant and creative one that maximises the potential of Singapore's most important resource - its people.

Schools Chiefs See a Path to Proposing Their Own Accountability Systems
The New York Times, July 12, 2011

Some state education chiefs say that if Congress does not overhaul, the main federal law governing public education, by the fall, they may be allowed to propose their own accountability systems as an alternative. These education chiefs said this week that Secretary of Education Arne Duncan and his aides have signaled that they may grant a waiver on a crucial provision in the law, a requirement that all children be proficient in English and math by 2014, a goal widely seen as unrealistic.

Research: Effective Schools: Teacher Hiring, Assignment, Development, and Retention

Authors: Susanna Loeb, Demetra Kalogrides and Tara Béteille

The literature on effective schools emphasizes the importance of a quality teaching force in improving educational outcomes for students. In this paper, we use value-added methods to examine the relationship between a school's effectiveness and the recruitment, assignment, development and retention of its teachers. We ask whether effective schools systematically recruit more effective teachers; whether they assign teachers to students more effectively; whether they do a better job of helping their teachers improve; whether they retain more effective teachers; or whether they do a combination of these processes. Our results reveal four key findings. First, we find that more effective schools are able to attract and hire more effective teachers from other schools when vacancies arise. Second, we find that more effective schools assign novice teachers to students in a more equitable fashion. Third, we find that teachers who work in schools that were more effective at raising achievement in a prior period improve more rapidly in a subsequent period than do those in less effective schools. Finally, we find that more effective schools are better able to retain higher-quality teachers, though they are not differentially able to remove ineffective teachers. The results point to the importance of personnel, and perhaps, school personnel practices, for improving student outcomes.
Successful Student First - Dialogue Series on Quality Education for All
July 13, 2011
"Public Private Partnerships for Quality in School Education"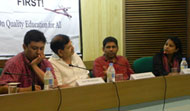 For more photos click here
RTE BLOG
Who pays for the RTE? Read CCS Intern Jasraj Singh Bhinder's findings on our website
RTE Coalition
To initiate and continue the discussion amongst concerned groups and individuals on the issue of right of education and monitor the implementation
of the RTE Act, an RTE Coalition has been formed. Join the coalition to make universal elementary education a reality in India.
Log on to www.righttoeducation.in
for more information.
Poll
Should school teachers be banned from giving private tuitions?
To vote click here
Skill Vouchers - Global Experiences and Lessons for India
Leah Verghese and Parth J Shah
A study of the role that skill vouchers can play in catalysing demand for quality skill development services. This study examines global experiences with skill vouchers and draws lessons for India from these experiences.
For more click here
Reservation in Private Schools under the Right to Education Act: Model for Implementation
Shekhar Mittal and Parth J Shah
Through this document the Centre for Civil Society seeks to highlight the lacunae in the current framework for 25% reservation for weaker and disadvantaged groups in unaided private schools and seeks to provide inputs on effective implementation of the same.
For more click here
School Vouchers for Girls
400 girl children from poor families of North East Delhi receive school vouchers for a period of 4 years.
For details visit our website
Support Children's Right to Education of Choice!
DONATE

For more details on how to support, log on to www.schoolchoice.in or email us at schoolchoice@ccs.in
This is our 145th edition. Please give your feedback to make it more useful to you at schoolchoice@ccs.in

Disclaimer: Copyright of the contents of this newsletter remains with the original author/publisher.