CHOICE TOOLS
SCHOOL VOUCHER FOR GIRLS
400 girls from underprivileged community in North East Delhi were awarded vouchers worth upto Rs. 3700 per year
More [+]
ACTION FOR SCHOOL ADMISSION REFORMS (ASAR)
Home > Support > Fund School Vouchers
Fund School Vouchers
Support Children's Right to Education of Choice!
Under the Campaign you can fund two voucher projects - Delhi Voucher Project launched in 2007 and School Voucher for Girls in 2009.
Delhi Voucher Project: In 2007, India's first voucher pilot, awarded vouchers worth up to Rs 3600 per year to 408 students in 68 wards of Delhi. The vouchers were given for a minimum of 3 years. We received 1,20,000 applications! An assessment of the program demonstrated that voucher children have academically outperformed those still studying in government schools. More importantly for the future of these children, it indicated close to a 20% increase in the involvement of parents in their education after receiving vouchers.
School Voucher for Girls: Given the success of the Delhi Voucher Project, this project was launched to fund the education expenses of 400 girl children from a poor minority community for four years. By targeting this traditionally disadvantaged group our project seeks to address gender-based discrimination in education through vouchers.
Sponsor one or more vouchers and join our pioneering initiative to provide all children in India a Right to Education of Choice!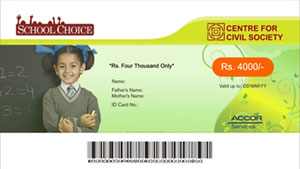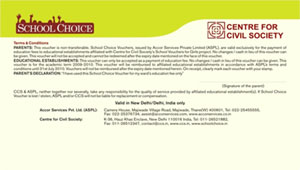 To send a cheque or wire transfer: Download and fill the form [PDF format | Word Format]
Send your cheque in favor of :
"Centre for Civil Society "
Addressed to:
Mr. Ashish Dhawan, Chairman
Centre for Civil Society
A-69, Hauz Khas
New Delhi - 110 016
Tel : 011 2653 7456, 011 2652 1882
OR Wire Transfer/Net Transfer to
Account No: 00321000114144,
Account Name: Centre for Civil Society
Bank: HDFC Bank Ltd.
SWIFT Code: HDFCINBBXXX
Bank Address: C-5/32,
Safdarjung Development Area (SDA)
New Delhi-110016, India

All donations are tax exempt U/S 80 G of IT Act