Common syllabus, curriculum will help achieve RTE objectives
The Hindu, August 10, 2011

A common syllabus and common curriculum is required to achieve the objectives of the Right to Education (RTE) Act, to provide free and compulsory education to every child of 6 to 14 years, the Supreme Court said on Tuesday. Dismissing a batch of appeals filed by the Tamil Nadu government and others against a Madras High Court judgment on implementation of the Uniform System of School Education, a Bench of Justices J.M. Panchal, Deepak Verma and B.S. Chauhan said "Article 21-A of the Constitution must be read in conformity with Articles 14 and 15 and there must be no discrimination in quality education."

Syllabus tussle costs schools dear
The Times of India, August 14, 2011

Chennai: The legal tussle has cost schools and parents not just time, but money too. Starting classes two months later than usual this year, they had to spend on old text books and now on the new ones. When the state government announced the amendment to the Samacheer Kalvi Act postponing the implementation of the common syllabus in May, several private schools rushed to place orders for textbooks under the old syllabus with private publishers. As there was but little time to get the books printed, the cost of books went up.

High Court panel to audit private schools' accounts
The Hindu, August 13, 2011

Holding that the fee hike resorted to by the Capital's private recognized schools in 2009 was an interim measure, the Delhi High Court on Friday constituted a three-member committee to inspect and audit the accounts of these schools. The terms of reference for the committee headed by retired Chief Justice Anil Dev Singh of the Rajasthan High Court are to find out how much funds these schools require to meet their increased financial obligations following the implementation of the Sixth Pay Commission recommendations on pay hike for their staff and on that basis to determine how much fee hike, if at all, was required by them.

Scripts under RTI: Apex court
The Telegraph, August 10, 2011

The Supreme Court has upheld a Calcutta High Court judgment permitting examinees to inspect and photocopy their answer scripts in any academic or professional exam under the Right to Information Act. NGOs such as JOSH (Joint Operation for Self-Help) and MKSS (Mazdoor Kisan Shakti Sangathan), who fight for right to information, had sought the apex court's intervention so that examinees could access their answer scripts. Responding to a court notice, the CBSE, Institute of Chartered Accountants of India, public service commission's and the West Bengal secondary and higher secondary education boards had presented their views before the court.

Soon, SAT-like common entrance test in India
DNA, August 11, 2011

The Union ministry of human resource development (MoHRD) is all set to revolutionise the way students get admitted to various engineering and undergraduate level courses in colleges across the country. Borrowing a leaf out of the American education system's Scholar Aptitude Test (SAT), the MoHRD is planning a similar single entrance examination which will rank students across the country and enable them to get admission according to their rankings.

Public Speaks Out Against Process of Schools Budget
The New York Times, August 13, 2011

As Chicago Public Schools officials scramble to complete the district's 2012 budget, parents, teachers and taxpayers made one thing clear in a series of public hearings last week: they must have a voice in developing the budget and not be asked to comment only after it has been released. Citing inaccuracies in enrollment figures and cost projections, they said the district repeatedly announced a looming budget deficit and threatened spending cuts and layoffs, only to produce a balanced budget that allowed for public involvement too late in the process.

Third of trainee teachers shunning state schools
The Telegraph, August 11, 2011

More than a third of students who start teacher training are still not working in state schools six months after courses finish, it was revealed. Figures show just 62 per cent of students end up in state education as others either drop out of courses, shun the teaching profession altogether or get jobs in private schools. It comes despite the fact that graduates are eligible for Government bursaries of up to £9,000 a year to train as school teachers in England. The study, by Prof Alan Smithers and Dr Pamela Robinson, from Buckingham University, branded the training system "very wasteful". Prof Smithers added: "Each year we are putting five people through training just to provide three new teachers for state schools."

Graduates accuse law schools of scamming students
Reuters, August 10, 2011

The two class-action suits were filed by graduates of New York Law School in lower Manhattan and Thomas M. Cooley Law School in Lansing, Michigan, amid growing scrutiny over whether law schools across the country are deliberately concealing the truth about their graduates' employment and salary in order to enroll more students despite their dismal job prospects. Among the tactics allegedly employed by the schools were misclassifying graduates with temporary or part-time jobs as "fully" employed, omitting information about graduates who didn't respond to employment surveys, and creating post-graduate job programs to hire their own graduates.

Is it always good to let universities select their students?

Research Paper
Authors: Guido Friebel and Dario Maldonado

Abstract: We undertake a first step to investigating a reform that has been applied in numerous universities across Europe: the right to select students. We ask to what extent this right will increase the effciency of the university. While it seems evident that giving universities the right to select students that match best with the human capital of professors should increase efficiency measures in the productivities of students in the labor market, we point to a potentially negative effect. We argue that allowing universities to select the students they prefer can reduce the incentives of the universities to improve the human capital of their professors.

Demand for private tuition classes under the free education policy. Evidence based on Sri Lanka

Research Paper
Authors: Pallegedara, Asankha

Abstract: Private tuition classes are growing phenomenon in Sri Lanka especially among students who prepare for competitive national school qualifying examinations. It is one of major education issues under the free education policy in Sri Lanka. It can tarnish the real purpose of free education policy. In this paper, we examine the demand for private tuition classes in Sri Lanka by using two waves of Household Income and Expenditure Surveys (HIES) conducted by the Department of Census and Statistics (DCS) of Sri Lanka in 1995/96 and 2006/07. We find that the demand for private tuition classes has increased in recent time among households. It seems that the private tuition expenditure has changed from a luxury good in 1995/96 to a necessity good in 2006/07. If the increased demand for private tuition classes is reflecting parents' concerns on inadequate and poor, but free education in public schools, the Sri Lanka government needs to reconsider its free education policy.
CONCLUDED
Student First! Dialogue Series on Quality Education for All
"Strengthening Teacher Accountability through Right to Education"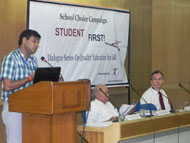 on Wednesday, 10 August 2011
For more photos click here
MARK YOUR CALENDAR
Next Student First! Dialogue Series on Quality Education for All
"25% reservation under the RTE act: are we getting it right?"
on Wednesday, 14 September 2011
What happens when all textbooks are (only) digital? Ask the Koreans!
This blog periodically checks in with what is happening in Uruguay, as one way to help explore answers to the question, What happens when *all* children and teachers have their own laptops? In this small South American country -- the first in the world to provide free laptops to all students -- there is increasing interest in providing digital educational resources to students as part of the Plan Ceibal project, but there has been no talk (to my knowledge) of getting rid of paper-bound textbooks altogether.
Prime Minister's Independence Day Speech
"We are now considering universalization of secondary education. Vocational education and skill development have acquired a new importance. In view of these major changes, it is necessary that we consider all aspects of education in a comprehensive manner. Therefore we have decided to appoint an education commission to make recommendations for improvements at all levels of education."
For the entire speech, click here
RTE Coalition
To initiate and continue the discussion amongst concerned groups and individuals on the issue of right of education and monitor the implementation
of the RTE Act, an RTE Coalition has been formed. Join the coalition to make universal elementary education a reality in India.
Log on to www.righttoeducation.in
for more information.
Poll
Should a common syllabus/curriculum be applicable to all schools across India?
To vote click here
Skill Vouchers - Global Experiences and Lessons for India
Leah Verghese and Parth J Shah
A study of the role that skill vouchers can play in catalysing demand for quality skill development services. This study examines global experiences with skill vouchers and draws lessons for India from these experiences.
For more click here
Reservation in Private Schools under the Right to Education Act: Model for Implementation
Shekhar Mittal and Parth J Shah
Through this document the Centre for Civil Society seeks to highlight the lacunae in the current framework for 25% reservation for weaker and disadvantaged groups in unaided private schools and seeks to provide inputs on effective implementation of the same.
For more click here
School Vouchers for Girls
400 girl children from poor families of North East Delhi receive school vouchers for a period of 4 years.
For details visit our website
Support Children's Right to Education of Choice!
DONATE

For more details on how to support, log on to www.schoolchoice.in or email us at schoolchoice@ccs.in
This is our 149th edition. Please give your feedback to make it more useful to you at schoolchoice@ccs.in

Disclaimer: Copyright of the contents of this newsletter remains with the original author/publisher.