PPP can do good for education, healthcare: CM
The Times of India, 26 December 2011

MANGALORE: Chief minister D V Sadananda Gowda on Sunday highlighted the need for private public partnership (PPP) to promote education and provide accessible healthcare to the masses. While the government has earmarked Rs 12,500 crore for education and an additional Rs 826 crore for medical education, a lot more needs to be done to ensure that quality education is provided to all concerned, and private players have a role in this regard.

Learning Curve
The Times of India, 26 December 2011

While the current school education system focuses on bringing a child into the classroom, does it ensure quality education? Education Times finds out. In the last few years, the Indian government has been focusing on several initiatives to ensure that every child has access to school education. In fact, the Right to Education (RTE) Act, which came into effect on April 1, 2010, made India one of the 135 countries to make education a fundamental right for every child between six and 14 years.

O teacher, my teacher
livemint .com, 25 December 2011

Politician "requests" on admissions, battles over funding and curricula, students who are in it for just the degree—the job can drain you. The upside? Enthusiastic youngsters who make you forget all of the above; and more importantly, a chance to truly change the world by shaping the minds of an entire generation. We spoke to three people in the field of education to find out why they enjoy what they do.

Rural India has so much to teach
The Times of India, 24 December 2011

From an engineer to a social entrepreneur, Srikrishna Mamidipudi was able to track this change after being a Grassroutes Fellow. Social entrepreneurship is for people with great ideas who can make an impact in the developmental sector. An engineer can bring in a lot of innovations in terms of technology and his analytical skills, he says. Mamidipudi sought the Grassroutes Fellowship when a friend recommended he apply for one. I am an engineer only by qualification, but Ive always been passionate about business and consulting. Social entrepreneurship is exciting because there are a lot of challenges that entrepreneurs face in the rural sector. The fellowship mapped me to work with Vayali Folklore Group.

RTE headache for budget schools in slums
Deccan Herald, 26 December 2011

Sugandha Pathak, New Delhi, Dec 22, DHNS: Managements of such schools say the regulation is not required as far as they are concerned. Budget private schools are low-cost private schools providing education to children from slums and rural areas. "We welcome the RTE Act; I think it should have happened long time back. But what is the use of the EWS quota in schools like ours which cater to the less privileged? All the students in our schools come from the economically weaker section of society," says Rajesh Malhotra, who runs a recognised private budget school till standard 8 for the slum kids of Tigri Extension in the city.

Budget Schools for national level alliance; demand changes in RTE Act
India Education Diary, 22 December 2011

Report by Rashmi r Parida; New Delhi: Faced with closure under the Right to Education (RTE) Act, budget private schools from eight states across the country today formed an association, National Independent Schools Alliance (NISA), to launch a sustained campaign for removal of major anomalies in the legislation that would preserve their survival, freedom and rights. Announcing the launch at a press conference, CCS president Path J Shah said the formation of NISA would provide a national platform to budget private schools across the country for articulating their concerns and grievances emanating from some of the provisions of the RTE Act.

India: Education experts pitch for major changes in RTE Act
India Education Diary, 21 December 2011

Report by Rashmi r Parida; New Delhi: The goals of the Right to Education (RTE) Act are unrealistic and unachievable in its entirety education experts and policymakers said at a conference here today, and endorsed the need for more dialogues with civil society, government agencies and educational service providers to bring the landmark legislation to fruition. There is an imperative need to look afresh into the RTE Act, iron out its ambiguities and focus on outcomes rather than inputs to achieve the objective of providing compulsory primary education for children in the 6-14 age groups, the panellists said at the conference.

The one-shot society
The Economist, 17 December 2011

ON NOVEMBER 10th South Korea went silent. Aircraft were grounded. Offices opened late. Commuters stayed off the roads. The police stood by to deal with emergencies among the students who were taking their university entrance exams that day. Every year the country comes to a halt on the day of the exams, for it is the most important day in most South Koreans' lives. The single set of multiple-choice tests that students take that day determines their future.

Education and Labour Market Outcomes: Evidence from India
Research
Authors: Aggarwal, Freguglia, Johnes & Spricigo

Abstract: The impact of education on labour market outcomes is analysed using data from various rounds of the National Sample Survey of India. Occupational destination is explained using both multinomial logit analyses and structural dynamic discrete choice modelling. The latter approach involves the use of a novel approach to constructing a pseudo-panel from repeated cross-section data, and is particularly useful as a means of evaluating policy impacts over time. We find that policy to expand educational provision leads initially to an increased take-up of education, and in the longer term leads to an increased propensity for workers to enter non-manual employment.
SCHOOL CHOICE NATIONAL CONFERENCE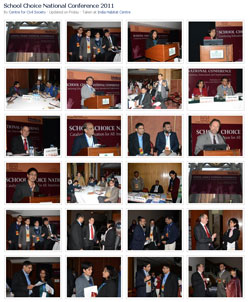 For more photographs Click here
The Aakash, India's $35 (?) Tablet for Education
Aakash has been described by some as potentially heralding a new 'Internet revolution' within India education, doing for educational computing what the mobile phone has done for personal communications over the past decade. Click here to read more.
Gauri Rane Shetty on how the younger generation can act as future agents of change. Click here to read more
Poll
RTE mandates Pvt schools to be not for profit. Does this conflict with the individual's right to choose their legal profession?
To vote click here
RTE Coalition
To initiate and continue the discussion amongst concerned groups and individuals on the issue of right of education and monitor the implementation
of the RTE Act, an RTE Coalition has been formed. Join the coalition to make universal elementary education a reality in India.
Log on to www.righttoeducation.in
for more information
Skill Vouchers - Global Experiences and Lessons for India
Leah Verghese and Parth J Shah
A study of the role that skill vouchers can play in catalysing demand for quality skill development services. This study examines global experiences with skill vouchers and draws lessons for India from these experiences.
For more click here
Reservation in Private Schools under the Right to Education Act: Model for Implementation
Shekhar Mittal and Parth J Shah
Through this document the Centre for Civil Society seeks to highlight the lacunae in the current framework for 25% reservation for weaker and disadvantaged groups in unaided private schools and seeks to provide inputs on effective implementation of the same.
For more click here
School Vouchers for Girls
400 girl children from poor families of North East Delhi receive school vouchers for a period of 4 years.
For details visit our website
Support Children's Right to Education of Choice!
DONATE

For more details on how to support, log on to www.schoolchoice.in or email us at schoolchoice@ccs.in
This is our 168th edition. Please write in with your feedback at schoolchoice@ccs.in

Disclaimer: Copyright of the contents of this newsletter remains with the original author/publisher.