Many of India's Poor Turn to Private Schools
The New York Times 30-12-2011

HYDERABAD, India — For more than two decades, M. A. Hakeem has arguably done the job of the Indian government. His private Holy Town High School has educated thousands of poor students, squeezing them into cramped classrooms where, when the electricity goes out, the children simply learn in the dark. Parents in Holy Town's low-income, predominantly Muslim neighborhood do not mind the bare-bones conditions. They like the modest tuition (as low as $2 per month), the English-language curriculum and the success rate on standardized tests. Indeed, low-cost schools like Holy Town are part of an ad hoc network that now dominates education in this south Indian city, where an estimated two-thirds of all students attend private institutions.

A progressive madrassa in the heart of UP
ZEENEWS .com 30-12-2011

Bilariyaganj: Breaking the stereotypes associated with madrassas, a 50-year-old Islamic seminary here teaches subjects like personality development and home science, runs an elaborate teacher training programme, has a higher girl enrolment ratio and has students who are no less active on social networking websites than their counterparts in the metros.

Japan's cramming schools
The Economist 31-12-2011

Testing times A controversial institution has some surprising merits. The yells of children pierce the night, belting out the elements—"Lithium! Magnesium!"—as an instructor displays abbreviations from the periodic table. Next, two dozen flags stream by as the ten-year-olds shout out the names of the corresponding countries. Later they identify 20 constellations they have committed to memory. Timers on desks push older students as they practise racing through tests. The scene at Seiran Gakuin, a juku or crammer on the edge of Tokyo, repeats itself nightly at 50,000 juku across Japan.

Two surveys and a crisis
livemint .com 28-12-2011

If our best schools are below global averages, our overall system is bound to be near bottom in global comparisons. Let's start with a recap of some news from the world of education that has held the attention of the general public in the past few weeks. The results of the second Wipro Education Initiatives study on actual learning levels in India's "best" (as polled by upper middle-class parents) schools have been widely reported. By virtue of being the "best" schools, these are also the schools that are held as models in the country.

'Higher education Bills unconstitutional
The Hindu. 29-12-2011

Under Tribunals Bill, institutions, teachers and students can't go to High Court for immediate relief'. Three proposed Bills pertaining to higher education are unconstitutional, as Parliament lacks the legislative competence to enact them, according to the Association of Self-Financing Universities, New Delhi. The body has appealed to the Union government to put on hold these legislation and hold talks with higher education institutions and other stakeholders on how to deal with the issues they seek to address.

India needs 2 lakh more schools, 1500 varsities
The Times of India 01-01-2012

How is the education sector in the country as a business proposition ? India is fast becoming a knowledge economy superpower . A whopping 220 million children are enrolled in schools in the country. But still, 140 million students are left out. The gross enrollment in India at 12% is lower than the Asean countries. According to one estimate, India needs at least 200,000 schools. In higher education segment, the country needs around additional 1,500 universities and colleges.

Providing the tiny tots their own Room to Read
Daily News and Analysis. 01-01-2012

"Good m-o-r-n-i-n-g, Ma-a-aam!" A rising intonation is what the ears are treated to the moment you walk into a classroom. The chorus is familiar: stretched, loud, shrill, warm —all at once and always a specialty of school kids, underprivileged or not. Schools are shut – winter holidays for the bachha party. Some though, the weaker kids, a less fortunate bunch who need extra classes have to trudge to school a couple of times a week to put in some more hours. At a eucalyptus-lined grey building that is a primary school in Delhi's Andrews Ganj- run by the Municipal Corporation of Delhi (MCD) this is the lot that sits cross-legged on a rug-covered cement floor of a room that is a library.

2011 proves tough for district education department
The Times of India 01-01-2012

VARANASI: The 2011 year proved tough for the district education department. The efforts to recruit teachers in government primary and upper primary schools after the declaration of TET results proved insufficient as the department could fill only 107 posts against the requirement of 2,500 teachers. The delay in distribution of free books (up to upper primary level) also hampered studies for most part of the year.

Welfare state generosity and student performance: Evidence from international student tests
Research
Authors: Torberg Falch, Justina AV Fischer

Abstract: Student achievement has been identified as important contributor to economic growth. This paper investigates the relationship between redistributive government activities and investment in human capital measured by student performance in international comparative tests in Mathematics and Science during the period 1980 to 2003. In fixed effects panel models, government consumption, government social expenditures, and the progressivity of the income tax system have negative effects on student achievement. The results are robust to a variety of model specifications, including models that condition on educational expenditures. Our best estimate indicates that increased government size by 10 percent reduces student achievement by 0.1 standard deviations.
SCHOOL CHOICE NATIONAL CONFERENCE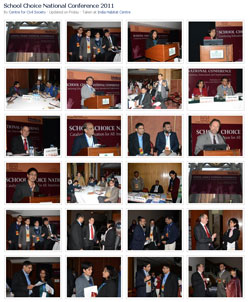 For more photographs Click here
The Global Search for Education: More from India
Is there a partnership opportunity in education? What might these two education systems be able to learn from each other? Click here to read more
In a shocking exposure, a government school in Kaluahi tehsil under Madhubani district is running classes of 1,144 students in an average size class room despite having six rooms in the school building. Click here to read more
The GRAS Academy and the Michael & Susan Dell Foundation are set to collaborate on delivering quality vocational training to school dropouts and unemployed youth in India.
Click here to read more
Poll
Should "learning outcomes" be a criterion under the RTE while granting recognition to schools?
To vote click here
RTE Coalition
To initiate and continue the discussion amongst concerned groups and individuals on the issue of right of education and monitor the implementation
of the RTE Act, an RTE Coalition has been formed. Join the coalition to make universal elementary education a reality in India.
Log on to www.righttoeducation.in
for more information
Skill Vouchers - Global Experiences and Lessons for India
Leah Verghese and Parth J Shah
A study of the role that skill vouchers can play in catalysing demand for quality skill development services. This study examines global experiences with skill vouchers and draws lessons for India from these experiences.
For more click here
Reservation in Private Schools under the Right to Education Act: Model for Implementation
Shekhar Mittal and Parth J Shah
Through this document the Centre for Civil Society seeks to highlight the lacunae in the current framework for 25% reservation for weaker and disadvantaged groups in unaided private schools and seeks to provide inputs on effective implementation of the same.
For more click here
School Vouchers for Girls
400 girl children from poor families of North East Delhi receive school vouchers for a period of 4 years.
For details visit our website
Support Children's Right to Education of Choice!
DONATE

For more details on how to support, log on to www.schoolchoice.in or email us at schoolchoice@ccs.in
This is our 169th edition. Please write in with your feedback at schoolchoice@ccs.in

Disclaimer: Copyright of the contents of this newsletter remains with the original author/publisher.