Unrealistic RTE Act has failed to reach grassroots
The Times of India, 13 February 2012

HYDERABAD: Much more needs to be done to bring in awareness among the public on the Right to Education Act (RTE), academicians, civil society representatives and students emphasized at a workshop conducted in the Old City on Sunday. Speaking on the occasion, chief guest Abdul Qaiyum, director of Civil Services Examinations Academy, Manuu, however, said that there was need to bring in changes in the Act.

Students can kill, but our jackpot system is killing education itself
Firstpost India, 10 February 2012

The murder of a Chennai teacher by her student in full view of her horrified class has raised all kinds of concerns. We ask: are our children becoming too violent; are parents or schools abdicating their responsibilities; is too much violent TV at fault; do our movies promote wrong values?....As always, the answer is a yes to all these questions. The moot point is, no one can really know what factor really pushes a child over the edge, and which burden is simply too much to load – onto children, parents and schools.

The Global Search for Education: A Free Education
Education Times, 09 February 2012

Just imagine being able to offer very poor Indian children a chance in life: the gift of a world class education in boarding schools designed by the finest architects, spread over rambling acreage, complete with state of the art academic and housing facilities, not to mention an extensive sports complex with its own skating rink and cricket field. Millionaire Shiv Nadar, Founder and Chairman – HCL and the Shiv Nadar Foundation, get to do that. The VidyaGyan schools (there are currently two: VidyaGyan Bulandshar and VidyaGyan Sitapur) are his brainchild.

India's Aakash tablet soon to be free for students
Android, 08 February 2012

The Aakash $60 dollar education tablet that has taken India by storm is about to get even better. The student and education-based government subsidized tablet might soon become free for students, instead of the current $35 price tag they are paying today. This would be a huge move and would see sales skyrocket — although it's been widely popular already.

Educating India's 'Demographic Dividend': The Role of the Private Sector
India Knowledge@Wharton, 09 February 2012

The growth prospects of the Indian economy depend to a large extent on how the country tackles certain issues of intellectual capital today. The concern largely centers on the much-debated demographic dividend, or the rising proportion of working-age people in India. The recent One Globe 2012 "knowledge conference" in New Delhi emphasized the role that industry needs to play. Some 54% of India's 1.2 billion people are under the age of 25.

We must make sure girls stay in school
Daily News and Analysis, 11 February 2012

Girl child education is one of the three causes that Stayfree DNA I Can Women's Half Marathon is championing. Here's why. Though the overall literacy rate in Maharashtra as per the 2011 provisional census is 82.91%, the female literacy rate in rural Maharashtra is a dismal 67.3%. This means, 32% of rural females are illiterate. This is a cause for concern that has also been red-flagged in the India Human Development Report 2011, especially because female literacy has an effect on other factors, such as a child's health.

Digitisation is making e-learning simple
Deccan Herald, 13 February 2012

The business of education is all set for a transformation in the country as the government, recently, announced that it will purchase some 100,000 low-cost Aakash tablets from Datawind, the Canadian company that has developed this equipment. These tablets would then be distributed to schools and colleges in India, where students would get them for free. This move of going the e-way and the limitations the low cost tablet has revealed has seen a lot of criticism all over, however, the e-learning industry in India is going to be one of the biggest game changers in recent times.

PPP models to expand higher education?
The Asian Age, 13 February 2012

With education sector requiring an investment of over $150 billion in the next 10 years, the government has proposed new private partnership models for expansion of higher education sector in the country. The government has proposed setting up of large education hubs in different parts of the country anchored by large public/private sector enterprises funded through their allocations for corporate social responsibility.

Impact evaluation of private sector participation in education
CfBT, 2012


The private sector in its broadest sense includes communities, non-governmental organisations (NGOs), faith-based organisations, trade unions, private companies, small-scale informal providers and individual practitioners; all may collaborate with Government in order to raise education quality. Though the public sector remains the dominant player in education, making high quality education accessible for all in a country requires innovative programmes and initiatives in addition to public resources and leadership – or 'vision'. There are ways in which the public and private sectors can join together to complement each other's strengths in providing education services, helping countries to meet their education goals and to improve learning outcomes (Patrinos et al. 2009).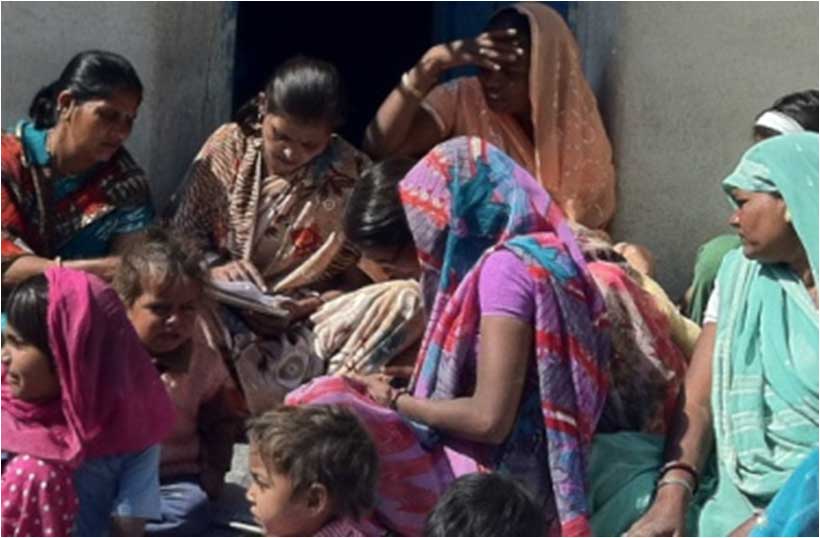 Members of the School Management Committee filling Community Score Cards in Kota, Rajasthan
Old teaching methods should stop: Suneel Galgotia
Galgotias Educational Institutions has today moved on to include Galgotias College of Engineering and Technology (GCET) and Galgotias Business School (GBS). Today GCET alone has over 4,500 students. He discusses his vision for an educated and empowered India with Deepshikha Punj. Click here to read more
E-textbooks knocking at Indian classroom doors
"E-textbooks do hold the key to the future as the coming generation is tech-savvy. It is the era of computers, trees will be saved and children wouldn't need to carry heavy bags," Click here to read more
Poll
Do you think education policy in India follows an evidence based approach?
To vote click here
RTE Coalition
To initiate and continue the discussion amongst concerned groups and individuals on the issue of right of education and monitor the implementation
of the RTE Act, an RTE Coalition has been formed. Join the coalition to make universal elementary education a reality in India.
Log on to www.righttoeducation.in
for more information
Skill Vouchers - Global Experiences and Lessons for India
Leah Verghese and Parth J Shah
A study of the role that skill vouchers can play in catalysing demand for quality skill development services. This study examines global experiences with skill vouchers and draws lessons for India from these experiences.
For more click here
Reservation in Private Schools under the Right to Education Act: Model for Implementation
Shekhar Mittal and Parth J Shah
Through this document the Centre for Civil Society seeks to highlight the lacunae in the current framework for 25% reservation for weaker and disadvantaged groups in unaided private schools and seeks to provide inputs on effective implementation of the same.
For more click here
School Vouchers for Girls
400 girl children from poor families of North East Delhi receive school vouchers for a period of 4 years.
For details visit our website
Support Children's Right to Education of Choice!
DONATE

For more details on how to support, log on to www.schoolchoice.in or email us at schoolchoice@ccs.in
Please write in with your feedback at schoolchoice@ccs.in

Disclaimer: Copyright of the contents of this newsletter remains with the original author/publisher.