Rs. 76 Crore imposed on 3 private schools in Chhattisgarh
The Indian Express, October 13th , 2012

Raipur District Collector Siddharth Komal Pardeshi said a fine of Rs 25 crore has been imposed on Holy Cross Pensionbada School, while fine of Rs 49.45 crore has been imposed on Krishna Public School for recovering capitation fee and other illegal fees from the students.

Want to be A Teacher? Excel in Class XII
The Hindu, October 10th, 2012

According a recent government order issued by the School Education Department, weightage will be given to an individual's academic qualification in class XII, her diploma in teacher education (D.T.Ed), her degree, B.Ed and her teacher eligibility test (TET) score.

No change in point system for nursery admission
The Hindustan Times, October 15th, 2012

The school has given points for sibling (30), alumni parents (25), distance (20), minority criteria (5), girl child (5) and transfer cases (5) last year. Most other schools had similar points systems.

Dear Teacher, Johny is skipping the Test
The New York Times, October 12th, 2012

"I want my school to use tests to help instruction, to help find out if kids don't know fractions," she said. "I don't want my child to feel like her score will decide if her teacher has a job or not."

Interview with Alvin E. Roth
Nobelprize .org

Well, my prize is about matching and matching is the work that the economy does when deciding for instance which students go to which schools. If they have a choice – so high school students in some cities get matched through a choice system where they submit preferences and the schools have requirements or perhaps preferences also. And some decisions are made about who goes where. And that's what matching is about. It's about who gets what. And um, we try to, in the school choice, we try to make it happen in a way that is sufficient but doesn't, but doesn't send people to schools they would rather swap with other people if the schools would allow them. Um, and if your students are in high school, they are going to go through many matching markets in their lives. They're going to get married, they're going to get jobs, and so, they can think about us then.

Parenting more important than schools for kid's academic success
The Indian Express, 11th October, 2012

Parental involvement is a more significant factor in a child's academic performance than the qualities of the school itself, new research has found. The research was conducted by researchers from North Carolina State University, Brigham Young University and the University of California, Irvine. "Our study shows that parents need to be aware of how important they are, and invest time in their children – checking homework, attending school events and letting kids know school is important," said Dr. Toby Parcel, a professor of sociology at NC State and co-author of a paper on the work.

Schools invited for leadership summit
The Times of India, October 10th, 2012

The National Independent School Alliance (NISA), a national platform for low-fee and budget private schools has invited city schools for the NISA school leadership summit to be held on December 5 in New Delhi. This is the first annual leadership summit organised by NISA to bring together 175 budget private school leaders representing over 12,000 budget private schools. The summit will discuss challenges and existing gaps in the education system, and learn of existing opportunities and innovative practices in the education space to improve quality of schooling and student performance.

SC orders fresh survey
The Statesman, 15th October, 2012

The Supreme Court today directed all states and union territories to conduct fresh surveys to identify bonded labour problems in the country and regretted that a large number of children continue to work as domestic helps, even after the enactment of the Right to Education Act.

Right to Homeschooling v. Right to education
Economic and Political Weekly, October 13th, 2012

Many attempts have been made during India's post-Independence period to fulfil the constitutional directive of universal elementary education through a number of education systems such as government and government-aided schools, local body schools, recognised and unrecognised private schools, non-formal education and open schools. According to an important clause in the Right of Children to Free and Compulsory Education Act 2009 (RTE), elementary education shall be provided only through recognised government and private schools. Private unrecognised schools, non-formal education and other alternative forms of e¬ducation are no longer valid.
SCHOOL CHOICE NATIONAL CONFERENCE
Delivering Education: From Policy to Practice
04 December 2012
The Theatre, India Habitat Centre, New Delhi, India
 Child + Teacher= Infinite Hope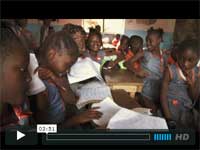 Click here to watch the video
'Why everyone deserves a second chance at education'- a book excerpt
Mike Rose is a highly respected professor at the UCLA Graduate School of Education and Information Studies and author of several books. His latest. "Back to School: Why Everyone Deserves a Second Chance at Education," looks a new at the role of higher education in the social and political life of the country and looks at ways that could give more people a chance at a college education. Click here to read more
Poll
Can homeschooling function in harmony with the Right of Children to Free and Compulsory Education Act, 2009?
To vote click here
RTE Coalition
To initiate and continue the discussion amongst concerned groups and individuals on the issue of right of education and monitor the implementation
of the RTE Act, an RTE Coalition has been formed. Join the coalition to make universal elementary education a reality in India.
Log on to www.righttoeducation.in
for more information
Skill Vouchers - Global Experiences and Lessons for India
Leah Verghese and Parth J Shah
A study of the role that skill vouchers can play in catalysing demand for quality skill development services. This study examines global experiences with skill vouchers and draws lessons for India from these experiences.
For more click here
Reservation in Private Schools under the Right to Education Act: Model for Implementation
Shekhar Mittal and Parth J Shah
Through this document the Centre for Civil Society seeks to highlight the lacunae in the current framework for 25% reservation for weaker and disadvantaged groups in unaided private schools and seeks to provide inputs on effective implementation of the same.
For more click here
School Vouchers for Girls
400 girl children from poor families of North East Delhi receive school vouchers for a period of 4 years.
For details visit our website
Support Children's Right to Education of Choice!
DONATE

For more details on how to support, log on to www.schoolchoice.in or email us at schoolchoice@ccs.in
Please write in with your feedback at schoolchoice@ccs.in

Disclaimer: Copyright of the contents of this newsletter remains with the original author/publisher.