RTE Deadline: Unrecognised schools to shut down, not erring Govt. schools?
First Post, January 20th, 2013

The president of an association of private schools in Delhi offers to tell a joke when asked why he believed the government wasn't justified in shutting down schools that don't meet the minimum quality standards that have been prescribed by the Right to Education Act.

Karnataka schools misguide naive parents seeking RTE quota
The Hindu, January 16th, 2013

When Chand Pasha, a cook in a hotel in Kottur (Bellary district), tried to admit his daughter in a private school under the 25 per cent quota for underprivileged children under the Right to Education (RTE) Act, the office staff at the school told him that he has to choose between a seat in a private school and benefits under the Bhagyalakshmi scheme.

Private school enrolment in rural India is increasing
Times of India, January 21st, 2013

For a country that is undergoing huge economic , social and demographic changes, education needs a more resolute direction. Nationally, private school enrolment in rural India is increasing at about 10% every year. In the next five years, India may have half of the children attending private schools even in rural areas.

Focus on learning outcome
Times of India, January 21st, 2013

The broader vision aims at improving the quality of research in educational institutions in the country. A nation's strength lies in its intellectual property. We have to improve higher education in terms of quality of our innovation and research. We will focus on increasing linkages as well as building stronger relationship between industry and academia. This will involve greater recognition of Indian scholars worldwide and matching up to the standards of international institutions.

Kids in rural India learn more from tuitions than schools: Annual status on education report
Times of India, January20th, 2013

Reflecting the dwindling standard of education across schools in rural India, a report has claimed that students required additional help of tuitions to achieve better learning outcomes.The Annual Status of Education Report (ASER), based on a survey covering about six lakh children in 567 districts of rural India, has said tuition-going students were much more clear with their arithmetic concepts.

Edu dept. Dismisses 206 absentee teachers: Maluka
Hindustan Times, January 20th, 2013

Punjab government has dismissed 206 teachers and employees in the education department who have been absent from their duties against the service norms. Disclosing this on Sunday, education minister Sikander Singh Maluka said 166 master cadre, 25 Sarv Siksha Abhiyan teachers, six computer teachers and nine non-teaching employees had been dismissed in the past two months.

Enrolment in schools rises 14% to 23 crore
Times of India, January 22nd, 2013

In a significant leg up to the government's literacy initiative, a national survey has revealed that almost 23 crore children are studying in 13 lakh schools across the country.

Obama's Education policy: What will be the legacy of his second term?
Huffington Post, January 18th, 2013

In 2002, when the Elementary and Secondary Education Act was amended as No Child Left Behind (NCLB) under then-President George W. Bush, few would have predicted that in the 10 years to follow, NCLB would become a household name, both vilified and praised.

Present education policy to steer nation towards progress: PM
The Daily Star, January 19th, 2013

Prime Minister Sheikh Hasina on Saturday expressed her firm confidence that the policy and measures undertaken by the present government for development of education sector would steer the nation towards progress"The measures taken for imparting qualitative education to students, expansion of science-based education and supporting the talents would bring qualitative changes in the society as well as take the society towards a new height in knowledge, science and technology," she said.

Let Schools be
One India One People, January 2013

Seventy one years since Mahatma Gandhi gave the call for universal education in 1937; 61 years since independence; 58 years since the Constitution, instead of making education a fundamental right made it part of the Directive Principles; 15 years since the Supreme Court in 1993 ruled on the right to education; six years after the 86th constitutional amendment was passed by the Parliament in 2002 by inserting Article 21A making education a fundamental right for children in the restricted age group of 6 to 14 years; and four years after the draft bill was prepared by the CABE (Central Advisory Board of Education) Committee, the Right to Free and Compulsory Education Bill was finally introduced in the Rajya Sabha on 15 December 2008.
The 9 o'Clock news: The Biggest Stories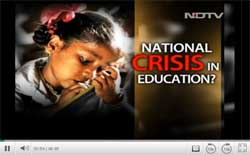 Click here to watch the video
Gov. Branstad says student scores must factor for teacher evaluation: Sioux City Journal
Iowa Gov. Terry Branstad said student test scores need to be a part of teacher evaluations, but that he is open to discussing how much those scores are weighted as a part of his education reform package. Click here to read more
Poll
Should the recognition of schools be dependent on learning outcome?
To vote click here
RTE Coalition
To initiate and continue the discussion amongst concerned groups and individuals on the issue of right of education and monitor the implementation
of the RTE Act, an RTE Coalition has been formed. Join the coalition to make universal elementary education a reality in India.
Log on to www.righttoeducation.in
for more information
Skill Vouchers - Global Experiences and Lessons for India
(Leah Verghese and Parth J Shah)
A study of the role that skill vouchers can play in catalysing demand for quality skill development services. This study examines global experiences with skill vouchers and draws lessons for India from these experiences.
For more click here
Reservation in Private Schools under the Right to Education Act: Model for Implementation
(Shekhar Mittal and Parth J Shah)
A comprehensive analysis on reservation in private schools under the Right to Education Act, providing a seven-step model for 25% implementation.
For more click here
School Vouchers for Girls
400 girl children from poor families of North East Delhi receive school vouchers for a period of 4 years.
For details visit our website
Support Children's Right to Education of Choice!
DONATE
For more details on how to support, log on to www.schoolchoice.in or email us at schoolchoice@ccs.in
Please write in with your feedback at schoolchoice@ccs.in

Disclaimer: Copyright of the contents of this newsletter remains with the original author/publisher.