Home >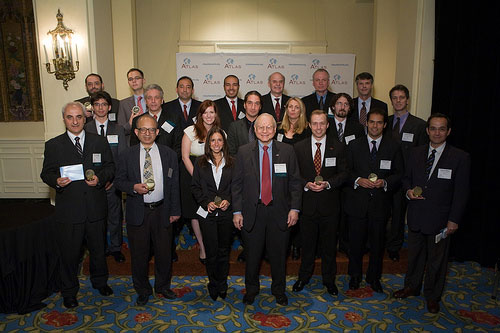 Mr Swaminathan A. Aiyer, CCS Scholar receiving the 2009 Templeton Freedom Award on behalf of the Centre for Civil Society on 9 November 2009 in Washington D.C
.
The Atlas Economic Research Foundation announced the winners of the 2009 Templeton Freedom Awards for Excellence in Promoting Liberty, the largest international awards program for think tanks on 19 October 2009.
The sixteen organizations recognized within the 2009 program represent four continents and twelve countries – Brazil, Chile, Egypt, India, Paraguay, Peru, Poland, the Republic of Georgia, Slovakia, South Africa, Sweden, and the United States. Winners were selected from more than 130 applications from 47 countries, by an independent panel of judges. The 2009 awards grant a $10,000 prize to each winner, and two prizes are given in eight categories.
Initiative in Public Relations — The Centre for Civil Society in India is recognized for its School Choice Campaign (SCC), operating in seven states to promote an education system in India where all children get quality education of their choice.
School Choice Campaign was launched in 2007 and is a campaign to bring about the much-needed reforms in the system of school education in India today using the three pronged approach of Education Vouchers, Regulatory Reforms and Encouraging Edupreneurs. By working with policy makers, education experts and grass root level activists, SCC is focused on removing entry barriers and encouraging edupreneurs, making for-profit schools and colleges legal and expanding choice and competition through education vouchers.
Atlas has chosen SCC for the Templeton Freedom Award for Initiative in Public Relations 2009 to recognize their innovative and sustained strategy and attention to the task of achieving widespread publicity and broad dissemination of their ideas, publications and programs, through successful and sustained engagement with the media.
Performing Arts for School Choice
A brief description of the initiatives for which the SCC received the 2009 Templeton Freedom Award for Initiatives in Public Relations.
Outreach through Performing Arts is a PR project SCC started in 2008 to integrate performing arts, especially street theatre, into our awareness and advocacy design and execution.
India being a multi-lingual and multi-cultural country with a huge rural population, almost half of whom are illiterate, we chose to use street theatre to take our ideas to these people in a more receptive traditional and entertaining form of communication. Street theatre is visual, creative, less expensive and performed in the local language, even a local dialect of the language.
Street Theatre in Rajasthan & Orissa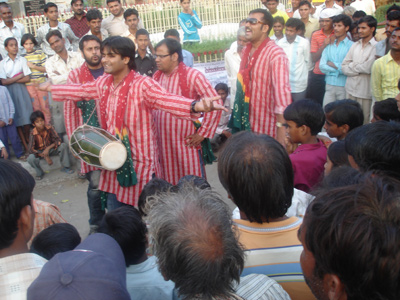 Most parts of the states of Rajasthan and Orissa are rural and their people steeped in tradition and culture. To create awareness among these people about choice and competition in the education sector, we conducted in these states 315 street theatre shows between July and December 09. Our focus on customizing the script of the play to suit the local cultural aspects paid rich dividends, making the project one of the most successful outreach programs in the country. In Orissa alone, the plays were performed by 8 different troupes in 8 different dialects of the state language Odiya.
In the two states, the plays reached 50,420 people directly and received 35 print media coverage and four television coverage taking our ideas to over 5,042,000 people.
Street Theatre for Jan Sunwai (Public hearing) on Right to Education of Choice!
The next success in the outreach through street theatre project was in mobilizing people for India's first massive public hearing on the right to education of choice in the state of Jharkhand. Working with various local partners, we hoped to mobilize 2000 people at one place on 3 October 2008 and demand school vouchers. For this massive mobilization drive, we formed 10 troupes that staged street plays in 6 districts of the state, informing of and inviting people to the event. The approach was a big success when 4500 people turned up in a play ground in Ranchi, forcing government officials and political leaders to attend the hearing, and the state education minister, Mr Bandhu Tirki to announce voucher pilot projects in 3 districts.
Using street theatre in multiple locations simultaneously also helped us leverage the media well. We received 12 newspaper and 4 television coverage, including a 30 minute talk program on SCC in a regional television channel (Nazar TV), taking our ideas to over 2.7 million viewers.
National Parliament Election & Street Theatre: My Vote, My Choice!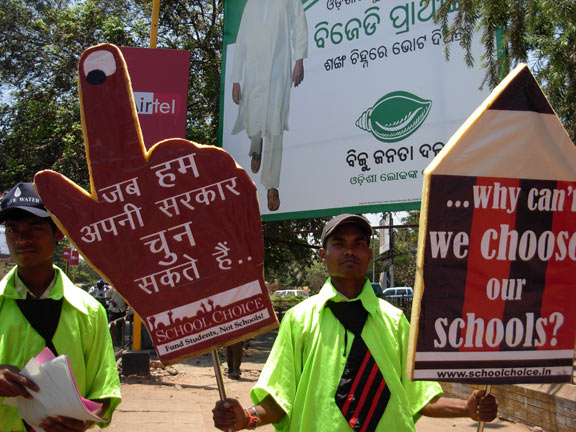 Given its adaptability and unique attraction, we used theatrics to highlight our demand for School Choice in the run up to the recently concluded parliament elections. In a unique campaign initiative, street theatre artists in 4 cities – Delhi, Bhubaneswar, Jaipur & Ranchi- donned oversized colourful school uniforms and distributed school choice promotional material in election rallies. Over 25 days, these artists carried a giant artificial hand and a giant dummy pencil as mascots (with the message "If we can choose our government… why can't we choose our schools?"), attracting the attention of thousands of people who attended the election rallies and the media, which took the message to more people.
The campaign was a grand success, with the artists distributing over 40,000 pamphlets (English, Hindi and Oriya) and forcing 5 MP (Member of Parliament) candidates to voice support to school choice ideas.
The campaign also sparked off a barrage of media stories. It received 13 newspaper, three television, one radio and several online stories in leading national and regional media. One of the leading national newspapers, Hindustan Times covered the event in the section India Can, India Will, giving the campaign a new fillip and taking our message to over 2.25 million readers across the nation. The strategy also netted for us a 30 minute program on the All India Radio, co-produced by One World South Asia.
Taking this success mantra forward, SCC continues to apply the strategy of adopting traditional and entertaining means of communication to take its messages to millions of people.
To wathc SCC Video on Performing Arts for School Choice click here.
To watch video on Jan Sunwai click here.
To know more about the other winners in 2009 visit http://atlasnetwork.org/prizes-grants/templeton-freedom-awards/2009-templeton-freedom-award-winners/
Conference and Atlas's Freedom Dinner
Atlas will host a conference, featuring the Templeton Freedom Award winners on November 9, 2009 at the Renaissance Mayflower Hotel in Washington D.C. The conference is tied to Atlas's Freedom Dinner, a gala celebration of the 20th Anniversary of the fall of the Berlin Wall. Winners of Templeton Freedom Awards will give presentations relating to "The Moral Imperative of Economic Freedom, and Innovations in Promoting Liberty."
For nearly three decades, the Atlas Economic Research Foundation has been supporting independent think tanks that promote free markets, individual liberty, and rule of law. Atlas currently works with more than 250 think tanks in 90 countries. More than half of these organizations were assisted in their formative years by Atlas through financial support or advisory services.
The Templeton Freedom Awards program has distributed more than $1.25 million in prizes and grants and is made possible with funding from the John Templeton Foundation.