CHOICE TOOLS
SCHOOL VOUCHER FOR GIRLS
400 girls from underprivileged community in North East Delhi were awarded vouchers worth upto Rs. 3700 per year
More [+]
ACTION FOR SCHOOL ADMISSION REFORMS (ASAR)
Home > Campaign Update > Tamil Nadu
December 2007
Campaign is vigorously running in this state through regular block level meetings and bunch of rallies. Citizens' Groups for School Choice are being formed in each block. In the last month one state level meeting had also been conducted for review and planning for SCC. So far 5, 00,000 signatures have collected through direct contacting of 5, 00,000 people. 600 parents meetings, 451 block level meetings and 45 district level meetings have been conducted till date. 600 memorandums have been submitted to the Gram Panchayat, 130 memorandums to the Panchayat Samity, 56 memorandums to the Zilla Parishad and 27 memorandums to the MLAs/MLCs. Also 14 rallies have been conducted till date.
October 2007
Public meetings and caravan activities are the basic tools for the mass campaign in Tamil Nadu. Mass meetings have been organized with the NGO personnel as well as with the government officials, Panchayat presidents, ward members, and movement leaders. A core committee has been formed of 17 members in Theni district of Tamil Nadu. Simultaneously, an action committee has been formed in the district level at Thiruvallur district. So far 2, 29, 000 signatures have been collected through contacting 2, 29,000 people directly. 251 parents meetings, 176 block level meetings, 25 district level meetings and 13 rallies have been conducted so far. 285 memorandums have been submitted to the Gram Panchayat, 70 to the Panchayat Samity, 20 to Zilla Parishad and 12 to MLAs/MLCs. Also campaign has got media coverage.
September 2007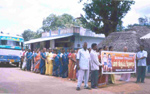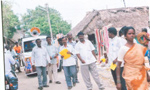 The mass and political campaigns are rocking in 8 districts of the state.Campaigning through caravan activity is going on in Tamil Nadu All the partners and district campaign units have been trained and they are using their street theatre groups in the village level meetings for mass mobilization. So far, 72, 460 signatures have been collected. 215 parents meetings, 34 block level meetings and 19 district level meetings were conducted in the state. 44 memorandums have been submitted to the Gram Panchayat and16 memorandums to Panchayat Samity have been submitted till date. 11 rallies have also been organized.
August 2007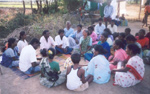 This state also moving forward with the campaign. Community mobilization meeting is going on. Self -help group meetings have been conducted in few districts. So far, 1, 10,000 signatures have been collected through direct contacts. 4 parents meeting, 5 block level meeting and 3 district level meeting have been conducted till date. 160 memorandums have been submitted to Gram Panchayat, 31 memorandums to Zilla Parishad and 4 memorandums to MLA/MLCs.
July 2007
In May '07, a village consultation meeting along with a cultural meeting was conducted in two districts in Tamil Nadu. A workshop on "Education is your right & it is your choice" was organized jointly with the East Coast Development Forum (ECDF) and National Advocacy Council for Development of Indigenous People (NAC-DIP) on 11th June '07 in Chennai. The main discussion revolved around the present scenario of government schools and the propagation of voucher system. More than 50 NGOs and Community-based Organisations participated in the workshop. In Tamil Nadu, 8000 signatures have been collected till date of which 4000 have been collected through a direct contact campaign. We have conducted 20 meetings for parents where 800 parents had taken part. Nine block level meetings and district level meetings were also organized. 20 memorandums were submitted to gram panchayats, 6 memorandums to Panchayat Samitis and 4 memorandums to the Zilla Parishads.