CHOICE TOOLS
SCHOOL VOUCHER FOR GIRLS
400 girls from underprivileged community in North East Delhi were awarded vouchers worth upto Rs. 3700 per year
More [+]
ACTION FOR SCHOOL ADMISSION REFORMS (ASAR)
Home > Campaign Update > Uttar Pradesh
November 2008
Culmination Event for the First Phase of the School Choice Campaign
On the 26 November 2008, Allahabad witnessed a congregation of representatives from 40 partner NGOs, School Choice advocates, prominent members of the ruling Bahujan Samajwadi Party and other supporters inside the Collectorate and High Court premises. Over 500 delegates were present at the culmination event of the first phase of mass campaign in Uttar Pradesh, many of whom had traveled from other districts.
In the first phase, partner organizations in the state had reached out to hundreds of thousands of people to create awareness about School Choice ideas and, in the process, collected around 12,50,000 signature petitions from citizens in support of the School Choice Campaign. Honorable Chief Minister Shrimati Mayawati's announcement that School Vouchers will be introduced in all those areas of the state where access to a school is difficult is an important victory to the campaign. At the culmination event, the speakers sought more support for School Choice ideas and the speedy implementation of the plan announced by the Honorable Chief Minister. The event served as a platform for the hundreds of supporters in the state to meet and share their campaign experiences and received wide media coverage.
January 2008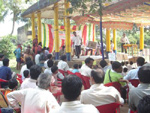 The state is planning for the culmination programme for the first phase campaign. So far 13, 00,000 signatures have been collected. And the campaign has been reached around 1, 04, 03, 522 people in the state. 201 Block Level Meetings and 36 District Level Meetings had been organized till date. 1,453 memorandums have been submitted to the Gram Panchayat, 534 memorandums to the Panchayat Samity, 89 memorandums to the Zilla Parishad, 67 memorandums to MLAs/MLCs and 6 memorandums to the MPs. Till date 204 rallies have been conducted. And 563 orientation programmes had been done so far. The state campaign is also catching good media coverage.
2007